Published: Monday, March 23, 2020 03:14 PM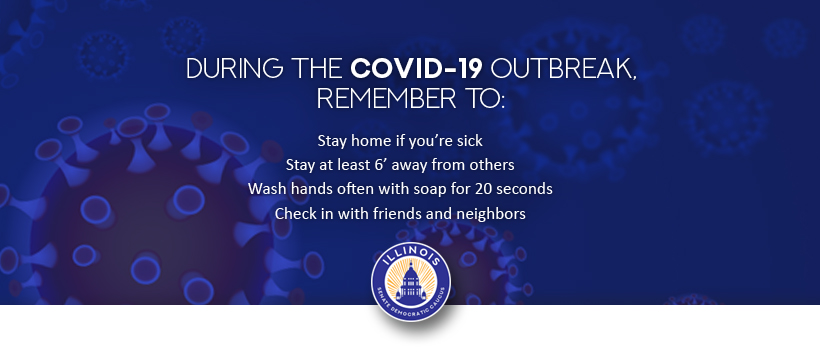 Dear Friends,
It's no longer "business as usual"—the coronavirus has disrupted many of our jobs, social lives and daily routines. For the sake of the health and safety of everyone in our communities, we must continue to follow the advice of our public health experts and do our part to help contain the virus.
Gov. Pritzker issued a 'stay at home' order for the State of Illinois beginning March 21 at 5 p.m. until April 7.
The executive order requires Illinoisans to practice a more rigorous form of social distancing, staying home as much as possible aside from meeting their basic needs. The order permits a range of essential activities, including but not limited to:
- For health and safety: seeking emergency services, obtaining medical supplies or medication or visiting a health care professional
- For necessary supplies and services: obtaining groceries and food, household consumer products, supplies they need to work from home, and products necessary to maintain the safety, sanitation and essential operation of residences
- For outdoor activity: walking, hiking, running or biking – including going to public parks and open outdoor recreation areas, except for playgrounds
- For certain types of work: Providing essential products and services at Essential Businesses or Operations or otherwise carrying out activities specifically permitted in the order, including Minimum Basic Operations
- To take care of others: Caring for or transporting a family member, friend or pet in another household
The Illinois State Board of Education is working to provide meals every day to all students, no questions asked. Grab-and-go meals are available statewide for students who need them, and some schools are even offering delivery. Contact your child's school district for more information.
Despite school and restaurant closures, Gov. Pritzker assures that essential services—including pharmacies, grocery stores and gas stations—will remain open. It's a good idea to be prepared, but only buy what you really need. Hoarding supplies prevents others from accessing the basics. Experts recommend keeping on hand about what you need for two weeks at a time.
All bars and restaurants are closed through April 7. Restaurants will have take-out, drive-thru and delivery options still available.
Many grocery stores are offering special shopping hours for seniors. Residents can contact local stores for their specific hours.
The "Stay at Home" order is in effect until Tuesday, April 7. The order requires all Illinoisans to stay in their homes to prevent further spread of COVID-19. It does NOT prohibit essential activities like going to the grocery store, receiving medical care, going for a run, or taking your pet for a walk.
To provide some relief to local eateries during the coming weeks, Grubhub is suspending commissions and Uber Eats is waiving delivery fees on orders from independent restaurants. Some larger restaurants are offering free delivery. Many delivery services have introduced no- or low-contact delivery options.
Ameren and ComEd are suspending any disconnections and waiving late payment fees. Other major utility companies, like People's Gas and Nicor, are suspending disconnections as well.
The Office of the Illinois Attorney General encourages residents to file a complaint if they notice price gouging on essential items related to the coronavirus outbreak, including hand sanitizer, cleaning products and protective gear.
All Illinois Secretary of State offices and Driver Services facilities are closed to the public through April 7. Expiration dates for driver's licenses, ID cards, vehicle registration and other transactions will be extended by 30 days. More information and some services are available online .
The Illinois Department of Employment Security is allowing workers who are unemployed due to COVID-19 to apply for unemployment.
Sheriffs in Cook, Will and Lake Counties have suspended enforcing evictions for at least 30 days. The U.S. Department of Housing and Urban Development has issued a moratorium on evictions of single-family homes with federally insured mortgages for the next 60 days. FannieMae and Freddie Mac are also offering mortgage assistance.
Even as we practice social distancing, we must stick together. Call, text or email friends and family, particularly seniors and immunocompromised individuals, who may feel especially isolated and afraid during this challenging time. Reaching out could save a life.
Continue to check my Facebook page and the Illinois Department of Public Health's website for daily updates.
Category: Press Releases