Published: 30 January 2018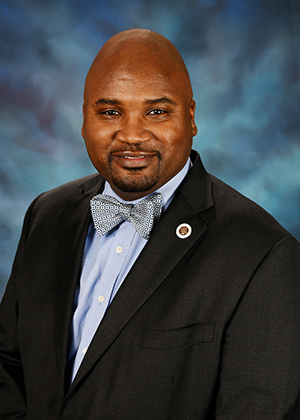 SEN. ELGIE R. SIMS, JR. is serving his first full term as State Senator for Illinois' 17th Senate District, which includes portions of the South Side of Chicago, Chicago's South Suburbs, and Will and Kankakee counties. He previously served nearly six years as the State Representative of Illinois' 34th House District.
An attorney and second-generation small business owner, Elgie's commitment to hard work began at an early age while working in his family's business, where he learned that "nothing in life is given; it must be earned." Throughout college and during his time working in Springfield, he often commuted from downstate Illinois to help run his family's business on Chicago's South Side, and he did the same while putting himself through law school.
Elgie continues to make a positive impact on every community he is a part of. As he was always taught: "To whom much is given, much is required." He remains active in many civic organizations whose mission is to improve the quality of life for the communities they serve. As a community leader, he has worked to provide scholarships and books to children in need and worked to make our communities safer.
As State Senator, Elgie continues to put families and communities first. During his time in the Illinois General Assembly, Elgie has championed legislation focused on improving the quality of our schools, strengthening the middle class by creating good jobs, bringing fiscal discipline to Springfield and passing commonsense public safety initiatives with the aim of making our streets safer.
Elgie has shown his commitment to educating young people throughout Illinois by support education funding reform, which is a law designed to level the playing field for P-12 schools statewide. Also, as a budgeteer he has negotiated spending plans that provide greater investments in schools from preschool through college.
One of Elgie's main focuses is creating economic opportunities and good-paying jobs. He passed a law requiring the State of Illinois to create a plan to address the crisis of high unemployment among young people. He also worked to pass a law to help revitalize the local economy by allowing low-interest loans to small and minority- and women-owned businesses working on transportation projects for the State of Illinois. In addition, Elgie passed the Illinois Home Grown Business Opportunity Act, which aims to help support and grow Illinois businesses by identifying existing and underused state resources in an effort to help them better compete with businesses in neighboring states.
Widely regarded as a knowledgeable lawmaker with an ability to forge compromise, Elgie led efforts as a state legislator for Illinois to become the first state in the nation to pass legislation to improve community and law enforcement relations. The Police and Community Relations Improvement Act has been used as model legislation for fostering stronger ties between police and the neighborhoods they protect and serve. The Act establishes and includes statewide protocols for the implementation of body cameras and training requirements for law enforcement officers.
One of Illinois' leading voices in the effort to reform our state's criminal justice system, Elgie believes prison should be reserved for those who are threats to public safety, not those who are poor or struggle with a mental illness or substance abuse problem. For that reason, he led efforts to move Illinois away from the use of cash bail. The Bail Reform Act focuses on an individual's threat to public safety or likelihood of being a flight risk. He is also working to hold businesses accountable that publish criminal history records. Elgie is spearheading legislation that would require them to correct errors on criminal history reports within five business days.
Elgie is a firm believer in second chances and believes that once a person has paid their debt to society they should enjoy the rights and opportunities of citizen. For that reason, he helped pass a law giving more Illinois residents with criminal histories the opportunity to turn their lives around and obtain gainful employment by allowing certain non-violent crimes to be sealed if the offender has not been in any additional trouble and passes a mandatory drug test.
Elgie is also one of the leading voices seeking to implement commonsense gun laws by keeping guns out of the hands of those who are a threat to themselves or others. He helped pass a law requiring universal background checks and the reporting of lost or stolen guns within 72 hours. He also helped pass a law that creates a 72-hour waiting period before any gun can be received after a purchase. This gives law enforcement more time to complete background checks and provide a "cooling off" period for people who may hurt themselves or someone else.
Born in Chicago, Sims holds a B.A. in political science from Illinois State University, an M.P.A. from the University of Illinois and a J.D. from Loyola University Chicago School of Law. He and his wife reside in Chicago's Chatham neighborhood with their two daughters.
PROFESSIONAL
State Senator, 17th District
Of Counsel, Foley & Lardner LLP
Former State Representative, 34th District
Former Budget Director Illinois Senate Democrats under leadership of former Senate President Emil Jones, Jr.
Member, Illinois State Bar Association
Member, Cook County Bar Association
Member, Chicago Bar Association
Member, National Association of Bond Lawyers
Member, National Bar Association
COMMUNITY SERVICE
Member, Board of Directors, Chatham Park Place Homeowner's Association
Member, Chairman's Advisory Council, Big Shoulders Fund
Member, Chatham-Avalon Park Community Council
Member, Greater Chatham Alliance
Member, West Chesterfield Community Association
Member, Park Manors Neighbors Community Council
Member, South Holland Business Association
Member, Illinois State University, Black Colleagues Association
Member, University of Illinois at Springfield Alumni Association
Member, Loyola University Chicago Alumni Association
Past Member, National Board of Directors, Alpha Phi Alpha Fraternity, Inc.
Chairman, Council of State Governments – Midwestern Legislative Conference
AWARDS AND HONORS
2013
Edgar Fellow, University of Illinois
Career Day Speaker, Schmid Elementary School
2014
"Living Legends Passing the Torch" Award, Black United Fund of Illinois
Legislative Champion, The Center for Developmental Advocacy and Disabilities Supports
Fellow, Bowhay Institute for Legislative Leadership Development, Council of State Governments – Midwest
Commencement Speaker, Clissold Elementary School
Certificate of Appreciation, Rosemoor Little League
Partners in Quality Award, Leading Age Illinois
2015
Steve and Sandi Adams Legacy Hall of Fame, Illinois State University
Kentucky Colonel, Commissioned by Hon. Governor Steven L. Beshear of the Commonwealth of Kentucky
Voice of Senior Care Award, Illinois Health Care Award
Regional Legislator of the Year, National Black Caucus of State Legislators
Trailblazer Award, Chatham Avalon Park Community Council
Fellow, Henry Toll Fellowship, Council of State Governments
Commencement Speaker, Kershaw Magnet School
2016
Legislative Award, Associated Fire Fighters of Illinois
Legislative Excellence Award, Associated Beer Distributors of Illinois
Courageous Leadership Award, Save our Schools Coalition
Commencement Speaker, Thomas J. Higgins Elementary School
Monarch Man of the Year, Public Service, Monarch Foundation, Alpha Kappa Alpha Sorority, Inc., Xi Nu Omega Chapter
2017
2nd Vice-Chair, Midwestern Legislative Conference, Council of State Governments
John W. Maitland, Jr. Leadership Award, Illinois Biotechnology Innovation Organization
Legislative Service Award, Illinois Probation and Court Services Association
Legislative Service Award, ACLU of Illinois
CAARE Visionary Award, Safer Foundation
Principal for a Day, Je-Neir Elementary School and Manteno Elementary School
Honorary Chair, Evers Academy for African American Males (ATEAAM)
Excellence in Public Service Award, Delta Sigma Theta Sorority, Inc.
Excellence in Service Award, Cassius L. Rudolph Scholarship Luncheon
Keynote Speaker, 29th Annual Dr. Martin Luther King, Jr. Banquet
2018
1st Vice-Chairman, Midwestern Legislative Conference, Council of State Governments; elected Chairman for 2019
Emerging Leaders Program, State Legislative Leaders Foundation
Most Distinguished Men of Illinois, Continuing Academic Training Program
Legislative Service Award, ACLU of Illinois
Appointed, Vice-Chairman, National Conference of State Legislatures Law, Criminal Justice and Public Safety Committee
Friend of Agriculture Award, Illinois Farm Bureau
Recognition for "Excellence in Politics," Bronzeville Academy
Career Day Speaker, Arthur L. Dixon Elementary School
Volunteer escort, Father-Daughter Dance, Miles Davis Magnet School
Commencement speaker, Arthur L. Dixon, Elementary School
Commencement speaker, Jane A. Neil Elementary School
Keynote Speaker, Concerned Christian Men, Annual Scholarship banquet.
EDUCATION
Loyola University Chicago, School of Law, Juris Doctor
University of Illinois - Springfield, Master of Public Administration
Illinois State University, Bachelor of Science